I love whole-milk Stonyfield yogurt, the kind that has the thick layer of cream on top. It tastes like candy, not even needing any jam to sweeten it.
On the other hand, my homemade yogurt is tangy-tart, almost too much so for my tastes. The rest of the family loves it, not seeming to mind its strong flavor, but I have to add an extra scoop of jam if I want to enjoy it.
I've had a niggling idea that I could replicate the Stonyfield version, but for some unclear reason I just never attempted to. Until a couple days ago when, instead of measuring out the standard four cups of milk, I replaced a half cup of so of the milk with cream from the quart jar that sits on the top shelf of the fridge. I proceeded with my normal yogurt-making routine, the only change being that I occasionally stirred the milk as it cooled in order to prevent the cream from rising to the top and creating a gummy skin—I wanted the cream to be as incorporated into the milk as possible.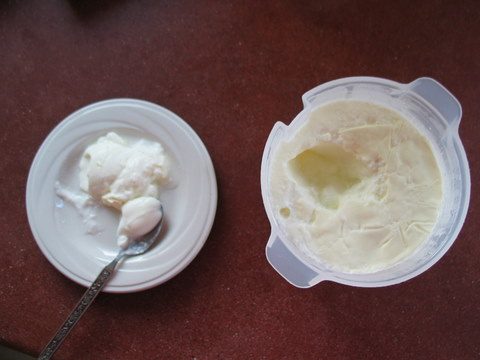 The final product was an altogether different animal from my standard yogurt—satiny, rich, mellow. It set up faster, tasted less acidic, and even had a little layer of cream on top (though not as defined as the layer in the Stonyfield containers). I labeled the container "creamy" and then stored it off to one side in the fridge, reserving it for my consumption only. I've been eating it for my breakfasts (feeding French toast, eggs, or oatmeal to everyone else) and for my bedtime snack.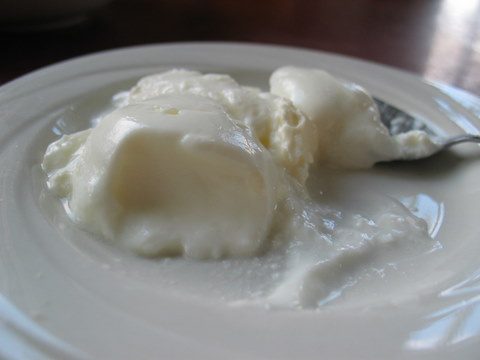 I made another container yesterday and now I'm wondering how it would turn out if I used one part cream to three parts milk. Is it possible to create a yogurt that is even better than Stonyfield's? Is it possible to use too much cream?
The milk/cream mixture is heating up as I type these words and in a few short hours I will determine whether or not I am to become Stonyfield's next stiff competitor. To be continued…
(Yikes! I was so absorbed in wording that last sentence that my milk/cream boiled over!)