By any chance, did you put up some rhubarb this year? Did you happen to freeze any of the green-red chunks in plastic bags? In two-cup portions, perhaps? If so, you are a lucky winner and I now give you permission to dance a little jig. I'm serious. Go ahead. Dance!
Now you need to fetch that bag of rhubarb from the freezer, turn on the oven, and pull out your medium-sized glass mixing bowl. You are going to make a cake, and the cake will be so tasty that you will probably (absolutely, certainly, and definitely) eat entirely too much.

In this cake the rhubarb is mixed into the batter and then sprinkled with the brown sugar mixture, but then as the cake bakes, the rhubarb and brown sugar-cinnamon topping sink to the bottom, creating a fruity, gooey, sometimes crispy-caramel-y bottom layer.

It's the kind of cake bottom that makes you insist that it's your job to serve everyone their piece, and then you intentionally use a fork instead of a cake server to scoop the pieces onto the dessert plates because you are well aware that the fork will not pick up all that brown crunchy goo, which means that after you've swept the cake pan off the table and set it back on the counter, you can hunch over the pan and quickly, using your spoon or even your fingers, polish clean the pan's sweet bottom.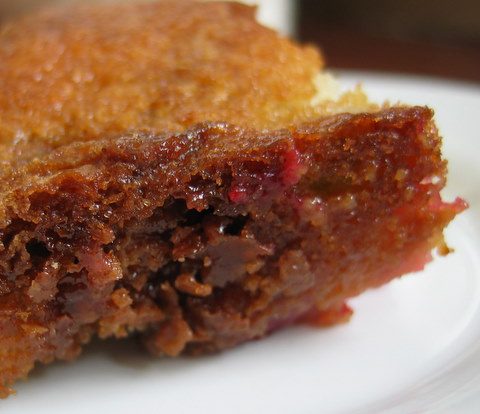 And then you'll need to dance another jig to burn off all that snuckered cake.

Not that I would know anything about scraping up brown-sugar goo with my fingers and then dancing a jig as penance. Nope. I do stomach crunches.
Rhubarb Cake
It is possible that this recipe came from Epicurious, though I can't be certain about that, because when I jotted down the ingredients in my little recipe book I forgot (oops) to make any mention of this recipe's origins.
This time around I added some red raspberries, as well as the called-for amount of rhubarb—the berries were a pleasant enhancement in regards to both color and flavor.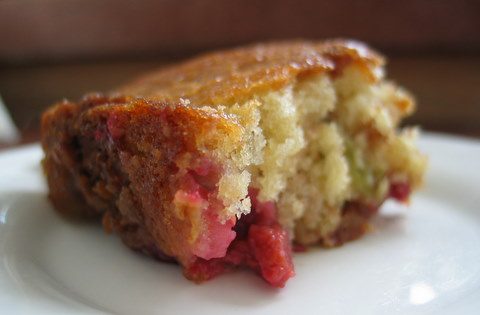 For the batter:
½ cup butter
1 ½ cup sugar
1 egg
1 teaspoon vanilla
2 cups flour
1 teaspoon baking soda
½ teaspoon salt
1 cup buttermilk or sour milk (to make sour milk: pour a couple glugs of lemon juice or vinegar into the bottom of the one-cup measuring cup before filling the cup up to the brim with the milk)
2 cups rhubarb, chopped, tossed with 1 tablespoon cornstarch
Cream together the butter and sugar. Add the egg and vanilla and beat some more. Add the flour, baking soda, and salt (that you have already mixed together in another bowl) alternately with the buttermilk. Do not over-beat. Gently stir the rhubarb into the batter and pour the mixture into a greased, 9 x 13 pan.
For the topping:
1/4 cup butter
2 teaspoons cinnamon
1 cup brown sugar
Mix together with your fingers and sprinkle over the top of the rhubarb batter.
Bake the cake at 350 degrees for about 45 minutes.