My mother busts her tail getting everything ready for us when we go home for a visit. The food, the sleeping accommodations, everything has been completely thought through. And because of all her work (and my father's, too, of course) our visits home are extremely relaxing and refreshing. I spent a large portion of Saturday sitting in the deliciously soft easy chair in the upstairs hall plowing through my Obama book. I also went on a run with Mr. Handsome (a date!) and slept in.
But I expect her to do those things. That's her job, you know, her motherly duty. She does a fantastic job of doing her motherly duty. But I don't want to talk about that right now. I want to tell you about another little side of my mother. This is the side of her that makes my eyes happy and gives me belly chuckles.
I get a kick out of going home because I get to see my mother's little homey touches. This woman specializes in little homey touches. I'm not talking about tacky knickknacks like fake flower, doilies, and potpourri pots. I'm talking about Artistic Flair. Artistic Flair is one thing my mother has down pat.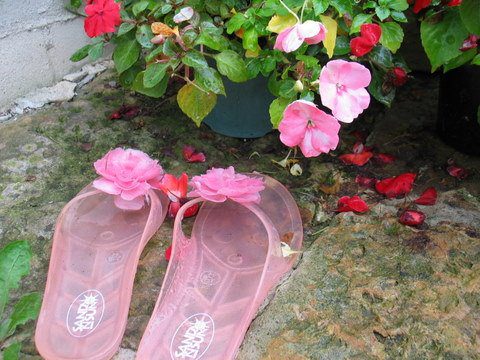 Take for example, the pink impatiens and pink jelly shoes neatly arranged out on the back stoop. She probably found those jelly shoes at her thrift store (her second home). I suspect that she wears them in the garden. All that is fine. But look at how she arranged them. Neatly, by the pink flowers, just so. Where do you keep your garden shoes? Do they match the pot of flowers on the back porch? Are they sitting neatly side-by-side, the toes pointing the same direction? See what I mean?
This little frog was perched on a rock by the back stoop.

This turtle lined the walkway by the flower garden.

She was very excited about her latest decor: four tiny, frolicking kittens.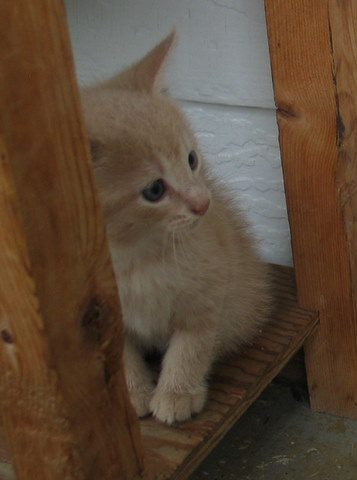 She had (artistically) filled a basket with straw and set it on the side porch and my kids spent hours playing with Smoky, Pinky, Little Sarah, and Blackie (Sweetsie named them), rocking them in the hammock on the porch, feeding them, carting them around the yard in the wagon… (In case you're interested in feline genealogies, the mother, Sarah, is Somersault's daughter. Our cat Blackie is also a daughter of Sarah's.)

Sunday dinner was hamburgers and hotdogs from the grill and s'mores, along with rotini salad, fruit soup (her latest thing), and corn. Notice the beautiful tablecloth that she made herself (she has piles of beautiful tablecloths). But what I really want you to notice about this picture is that white ceramic bowl perched on the bench right behind my mom. See it? It's full of soapy, warm water for washing hands. I don't know about you, but I would've just grabbed a plastic tub, or a couple damp rags. This is the difference between my mom and me.

She has interesting, artful toys lying about, like this duck (the thing that's smashed under Mr. Handsome's snoozing head). She got it as a gift from her college friend—the two of them used to "talk duck". That's what they did all during their entire college career. I'm not sure how much else my mother learned during that time because all I've ever heard her talk about is Sharon this and Sharon that, but at least she had fun. And she still gets some good toys from Sharon.

But the knock-out art was the one that she didn't even plan. Have you ever seen a Fairy Ring?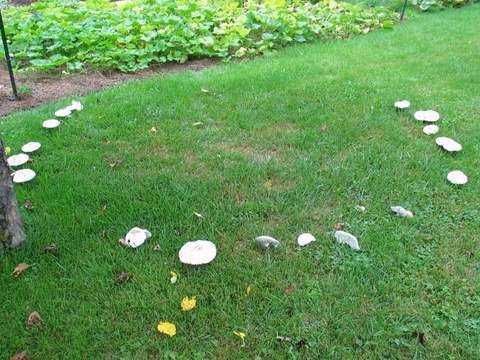 This Fairy Ring was right out back by the garden. It's a circle of mushrooms. My parents didn't do anything to create it (except not mow over them). We kept asking about it, at first almost not believing it was real. Dad explained something about rain and spores and stuff, so I know there's a scientific reason behind it.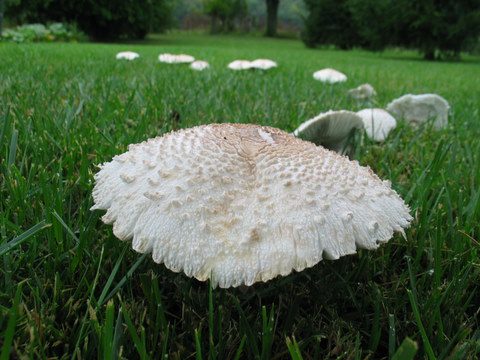 But I think it's just proof that the fairies and my mother are in cahoots.
Ps. While my father does not share my mother's artistic flair (not many people do), he does have his own style. He mowed a baseball diamond into the meadow on the other side of the garden where the boys/menfolk played Saturday afternoon ball. The thing is, the field is rolly and hilly, so the batter sits down at the bottom and everyone else sits way up higher (I didn't get a photo, sorry). I went out to watch and it felt like somehow, magically, everything was going uphill. That's art, too, no? Creating a baseball game on Escher Field.