I'm sure you've been wondering why I haven't posted our family pictures. Was it so traumatic that we didn't even get one presentable photo? Did we all take one look at the little gray box my brother was readying to aim at us, dissolve in tears, and turn tail and run?
Actually, no. It was a nice little session, thank you very much. And for the most part we behaved maturely. I only had to lecture Mr. Handsome once, halfway through when he loudly announced, "Okay, that's enough! I'm done."
I promptly bit off his head: "Don't you dare call it quits! Do not cut this thing short. We are taking pictures and we are going to take a lot of pictures. So just you shush." The next time he said started griping, only about ten clicks later (I'm telling you, the patience of this guy is absolutely non-existent), he took one look at me and quickly added, "I know. I know. I'm not supposed to say that."
My Balding Bro snapped away, persistently and steadily, constantly chuckling to himself. I can't imagine why.

Sweetsie was the only one out of sorts. She wouldn't put her head up.

And then she started strangling Mr. Handsome.

Now we're getting our act together, cheesing like the best of them.

Oops, not quite. The kids need a little pep talk.

Now Mr. Handsome needs another talking-to. Or at least a good dose of my evil eye.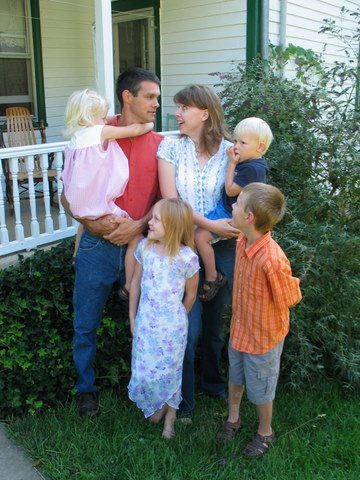 There we go. Now we're back on track.

Hey, lookie there! I've sprouted another child!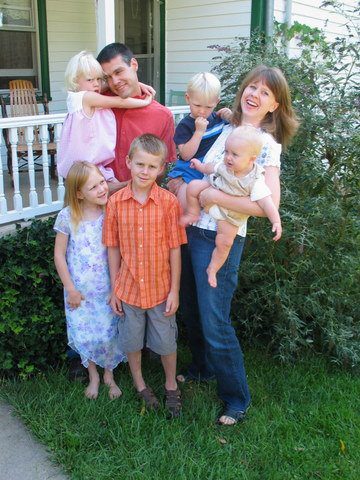 I bet you didn't know that—that I don't actually give birth—I just sprout my babies. Self-regeneration, I think it's called. One minute I'm walking around doing normal everyday things, wearing jeans, no less, and the next minute there's a new kid riding on my hip. It's a painless way to reproduce, though I'll admit it's just a wee bit unnerving.

But she is a dearie. The other kids seem to be taken by her, not at all surprised to see her protruding from my side. In general, I've found kids to be fairly accepting of life and it's surprises.