The following was mostly written on Thursday; I just didn't get around to posting until today.
Remember how I got sick a week ago? Well, I'm still not over it, it seems. On Monday night I started losing my voice, and now, three days later, my voice, or lack thereof, is getting worse. I can't talk. Do you all have any idea how difficult this is for me? I throw my voice around like, like, like…a farm wife throwing scratch to the hens, or dirty dish water, if we didn't have drains in our sinks and had to toss the water off the side porch. Understand, my voice is a very important tool. It gets me things and it makes people do things. I yell, shout, holler. I talk on the phone. I talk to myself. I talk. And now I can't. I've been struck dumb.
And I didn't even laugh at any of God's angels, at least none that I'm aware of.
Now I stamp my feet and clap my hands to get everyone's attention. Makes me feel like a one-act circus, leaping around all by my lonesome.
For some reason, I keep thinking about A Wrinkle In Time. I think it's because I have to use a lot of force to push enough air through in order to create any audible sound; somehow that reminds me of tessering. I was talking on the phone with a friend and had to explain that I wasn't yelling at her, I was just trying to communicate. It's hard work, being mute.
Not to mention that yesterday I put up 20 quarts of peaches (sliced, not halved, so there were a lot of peaches in each quart), and then I started on the apples. Mr. Handsome came home and we worked together (without fighting—maybe because I had no voice with which to boss him around?) for five solid hours and turned out 37 quarts of applesauce. And the requisite gingerbread, of course.
I have tomatoes to do, and more peaches, but I'm making a double batch of chocolate chunk cookies (my other favorite chocolate "chip" cookie) instead. And blogging. I decided I deserved a little treat.

Chocolate Chunk Cookies
Adapted from The All-American Cookie Book by Nancy Baggett
1 cup butter
3/4 cup, plus 2 tablespoons, sugar
3/4 cup packed brown sugar
2 ½ tablespoons light corn syrup
2 large eggs
2 ½ teaspoons vanilla
2 3/4 cups flour
2 teaspoons cream of tartar
1 teaspoon baking soda
½ teaspoon salt
2 3/4 cups semisweet chocolate chunks, divided (about 16 ounces)
Beat together the butter and sugars and corn syrup. Add the eggs and vanilla and beat some more. Mix together the dry ingredients (everything but the chocolate) and stir into the wet ingredients. Add about one cup of the chocolate chunks. Cover the dough with plastic wrap (or a shower cap) and refrigerate for about half an hour.
Preheat the oven to 350 degrees and lightly grease some cookie sheets. Shape the dough into small balls, or large ones, if you're feeling extravagant, and dip the tops of the cookies in the bowl that contains the rest of the chocolate chunks. The tops of the cookies should be all chocolate.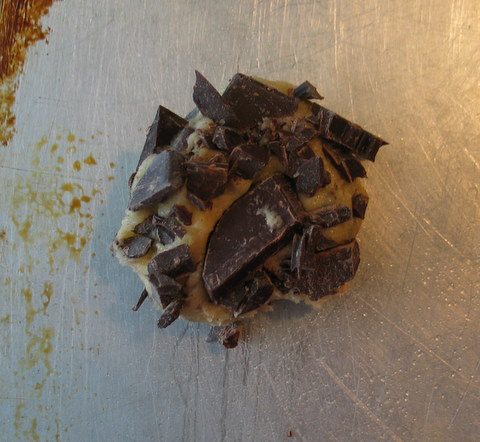 Press the cookies down, only very slightly, or maybe not at all. Leave at least two inches between cookies, maybe more, because they spread out a lot. Bake the cookies for 8-12 minutes, depending on how big you made the cookies. The edges should be lightly browned and the tops should still be pale (I always over-bake the first couple trays till I get the hang of it).

Allow the baked cookies to rest on the hot tray for about 8 minutes before even attempting to remove them—all that chocolate makes them very tender, soft, and squishy.
After the cookies have cooled, I lay them on a cookie sheet and put them in the freezer for about 20 minutes to harden before packing them into bags and boxes to freeze.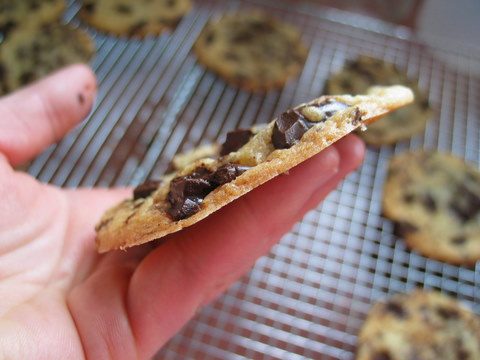 These cookies are exquisite, eaten straight from the freezer.