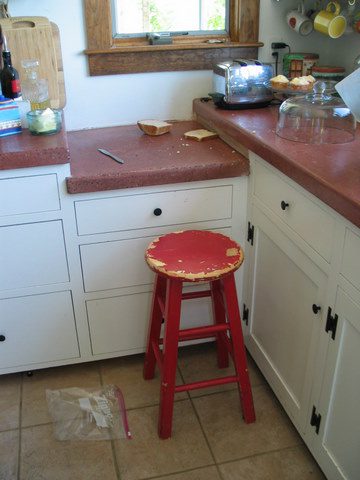 Yesterday morning locked all the doors and went outside to mow. But first I dug thistles and hung laundry and then I mowed. The kids were riding bikes and playing some imaginary game. But after a bit I noticed The Baby Nickel wasn't with them. Where was he? Inside. I must have forgotten to lock a door (or when Yo-Yo Boy came outside after playing his game, he forgot). Anyway, The Baby Nickel was inside, up on the kitchen counter. He had pulled the bread out of the bag, and the one piece was smashed flat in the middle. He must've leaned his weight on it, maybe when he was leaning forward to call out the window to me, kindly, boldly, informing me that "I ih'side, mom." Also, he had removed the heavy lid from the cake plate and taken bites out of the tops of the last three lemon donut muffins.
Lemon Donut Muffins
Adapted from Orangette
Beat 1 ½ sticks butter. Add 3/4 c. plus 2 T. sugar and beat awhile more. Add two eggs and beat more. (Get the picture? There's a lot of beating going on.)
In a separate bowl, mix 3 c. flour, 2 ½ t. baking powder, 1/4 t. baking soda, and 1 t. salt, scant.
In another bowl, mix 3/4 c. plus 1 T. milk and 2 T. of buttermilk or yogurt. Add the juice of ½ lemon and the zest of one lemon.
Alternating wet and dry, add the mixtures to the beaten butter. But this time, do not over-beat.
Bake in greased muffin tins at 350 degrees for 25-30 minutes. (I use mini muffin tins, so they take less time.) When cool enough to handle, brush all over each muffin with a mixture of 6 T. melted butter and the juice of ½ lemon, and then roll the muffin in powdered sugar (about 2 cups).
One recipe makes 24 mini muffins and 6 regular-sized muffins.
The original recipe called for ½ t. freshly ground nutmeg and no lemon. My next experiment is to increase the nutmeg and add a couple tablespoons of rum to the batter, as well as mix some nutmeg into the powdered sugar. I'll keep you posted.
And since I really like to eat an entire muffin, tops included, with my coffee, I'll do a better job of locking the door when I go out to mow.
Update: I got a call from a friend to whom I had given a little loaf of the nutmeg donut muffins. She called to thank me and to let me know that her husband had licked the plate clean. Literally. Just wanted you to know. They really are that good.