Since this blog is about the minutia of my life, I've decided to add recipes for the food that makes up the backbone of our daily diet. It's more exciting to write about the new and unusual things I'm cooking rather than the everyday fare, but the everyday grub is important, too—it gives us a solid diet baseline from which I can experiment and it prevents me from ending up with starving (or bloated) children. And besides, the everyday grub is pretty darn good, if I do say so myself.
Granola
Adapted from the Simple Granola recipe in The More-With-Less Cookbook
Note: this recipe is also posted here.
I ate it as a baby, my mom says. She just soaked it in hot water and then put it through the food mill. Mr. Handsome mixes it with homemade yogurt and jam for his morning break. Yo-Yo Boy is learning to make this all on his own. We eat it a lot. This recipe lasts us about a week.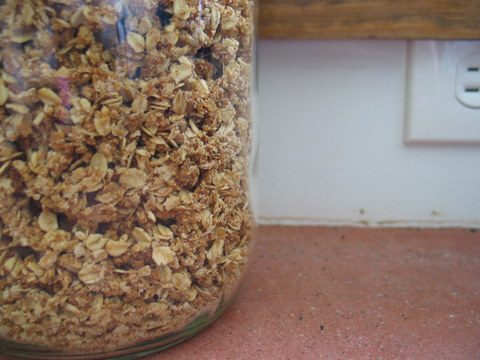 14 cups oats (I use half quick oats and half rolled oats)
2 cups sugar
2 cups whole wheat (or cracked wheat if you want more of a crunch)
2 cups raw wheat germ
1 tablespoon salt
1 ½ cups canola oil
1 3/4 cups water
Mix the dry ingredients together and then add the wet. Spread the mixture on two large ungreased cookie sheets that have sides. Bake at 250 degrees for several hours, stirring occasionally until golden brown and crunchy. Cool completely and store in glass jars.

Yield: about five quarts.