This is my catch-all bread recipe. I like to clean out my fridge and cupboard, adding the lumpy cream of wheat from last week's breakfast, maybe the dregs of the molasses jar, the last bit of cornmeal from the bag, or, ooh—those sesame seeds would certainly add a nice crunch. And so on. Sometimes I make it earthy and dark with lots of freshly ground wheat, and other times, for a special treat, I use mostly white flour. Be creative with shaping the dough, too. Make sweet rolls or buns. Dust the tops of the loaves with seeds or oats. If you have a loaf that flops, tear it up to make bread crumbs. And then try it again. The whole process should take about six hours, from start to finish, especially now that it's so toasty warm outside.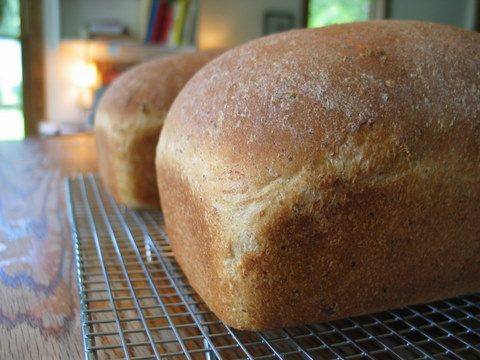 Brown Bread
Put 1 cup of warm water and 3 T. of yeast with a pinch of sugar in a smallish bowl. Mix and let sit till foamy (5-15 minutes).
In a large bowl:
½ c. fat (butter, oil, etc.)
1 c. sweetener (white or brown sugar, honey, molasses, etc)
2 T. salt
a mixture of about 3-5 cups of whole grains (oats, cracked wheat, cornmeal, rye, spelt, flax seed, leftover cooked cereal, whatever strikes your fancy—this is the fun part, but don't overdo it or your bread can get heavy and crumbly)
Pour five cups of boiling water (you may also use milk, or whey from cheese making) over the mixture, stir, and let sit until lukewarm. Add the yeast mixture. Add several more cups of whole wheat flour and then enough bread flour to make a knead-able dough. Knead till satiny and elastic, adding more white flour when it gets sticky. Flour the dirty bread bowl and plop the dough into it. Sprinkle more flour overtop. Cover with a towel and let sit till double.
Cut the dough into four pieces and shape into loaves. Place in greased bread pans and let rise until nearly double. Gracefully slip the loaves into the oven, which has been already heated to 350 degrees, and bake for 25-35 minutes, or until the bottoms are golden brown and sound hollow when tapped. Dump the loaves out on a cooling rack or a cut-open brown paper bag, and, if you want, you can put the loaf pans away without washing them.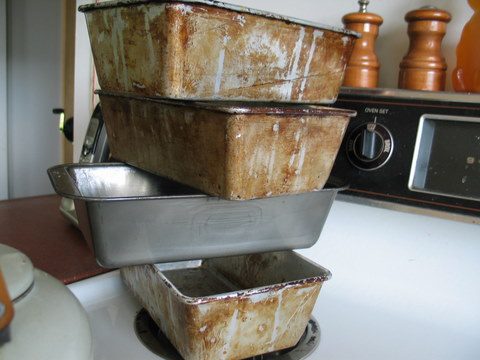 To store the loaves, wait until they are completely cool, then bag and freeze them. But definitely keep one loaf out to eat for supper.